-Material:ABS
-Product Size:150*74*82MM
-3.5 inch LCD screen display
- Temperature unit between Celcius and Fahrenheit Switch
-CO2 Technology : infrared ( NDIR)
-PM2.5 Sensor technolology : Laser Scattering
-Detection range:
CO2 Detection range: 400-5000 ppm
PM2.5 Detection range : 0-999 ug/M3
AQI Detection range : 0-500
-CO2 Alarm value : 1000ppm
-Support hand Setting CO2 alarm threshold from 800ppm-2000ppm.
-CO2 Alarm on /off function(if users do not like alarm ,people can turn it off )
-Power supply:rechargeable Li-battery 2000mah includding USB Chargeing cable
-Included:Main Unit+manual+charging cable

Advantage :
-Integrated detection with CO2/Temperature/Humidity/PM2.5/PM1.0/PM10/AQI
-Auto calibration ,Exceeding Alarming with auto detection and auto measuring
-Support different interface switching.
-support History Records save
-Screen off time: never, 1min, 10min and 30min, can save power .
- Adjusting screen brightness
-Temp unit: Celcius and Fahrenheit Switch
-Alarm sound set: On and off
-Color Smile face , very realistic.

Package details:
Product N.W.:225g
Product G.W.:400g
Package Dimension:18.7*12.1*7.2cm
CTN Dimension:56*28*42cm
CTN Weight: 9.2KG
28sets/CTN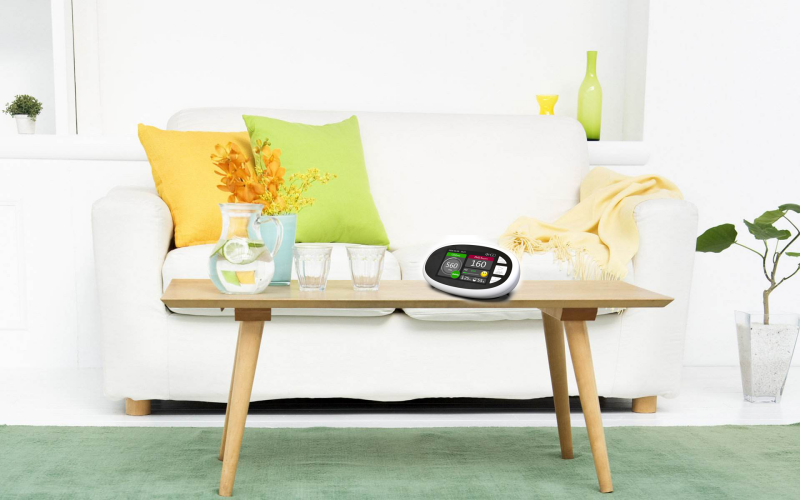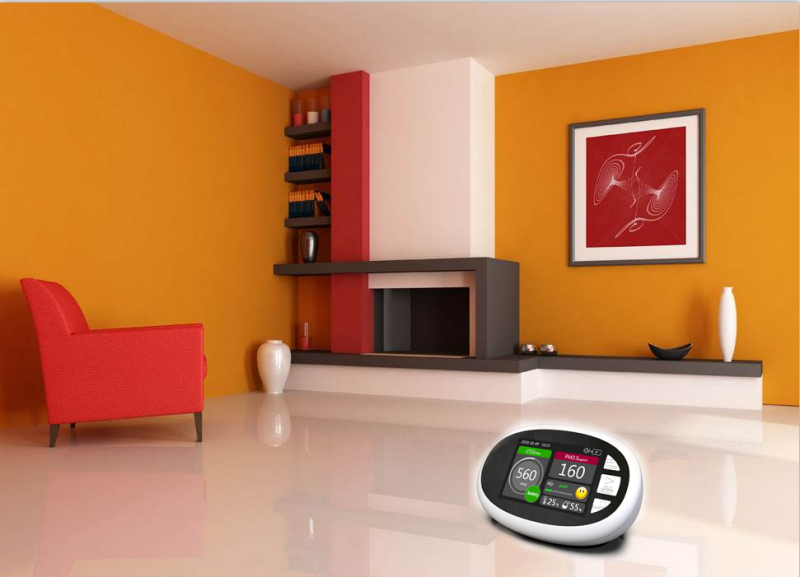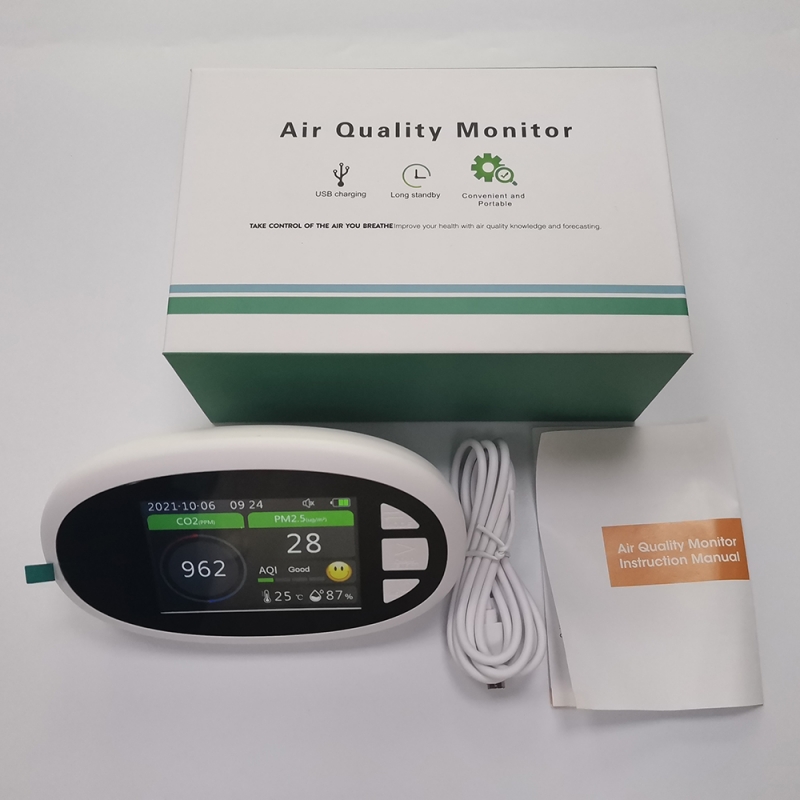 FAQ
1 Q: What the test index are include for air quality monitor?
A : CO2: is for carbon dioxide,Infrared sensor(NDIR) Temperature and Humidity

Suitable for detecting CO2 concentration in industrial, agricultural and residential environments.
Control the ventilation system according to the monitored target value (CO2 concentration).

2 . Q: What is the standard range for CO2?
A: CO2 Test Range:
400~1000 ppm
1001~2000ppm
2001~5000ppm
Temperature Test Range: 0-50℃
Humidity Test Range 0-95%RH ;

3. Q: How to charge it?
mini USB port charging line which is included in the standard accessories .
We also offer adapter(Like US adapter, Europe adapter...) if add extra cost.

4. Q: How about OEM or custom?
A: Sure, Asprofessional and stable manufacture for CO2 merter factory, we can support many custom contents as below;
a Printing logo on product .
b Package, support custom pacakge(We can send neutral artwork to client to design package)
c Manual, support custom maual for many language,like English, German, Japanese, Spanish, Dutch, Polish
d. some custom sticker, like Amazon FBA upc label... To meet clients requirement.
e. Customized software is also possible such as change the CO2 standard value , such as shoot logo display , such as customized language display Etc .

5. Q: what's certificate include?
A: 1.CE and Rohs 2. MSDS and UN38.3

Common fields
1. Carbon dioxide monitoring of various industrial and agricultural plants, workshops, greenhouses, clean rooms,
etc.
2. Ventilation control and environmental quality monitoring required for homes, villas, office buildings, meeting rooms,
classrooms and other fields.
3. Ventilation control and environmental quality monitoring in public places such as hotels, exhibition halls, hospitals, shopping
malls, bars, restaurants, airports, train stations, entertainment halls, and theaters.
4.Units that produce and use carbon dioxide gas, etc.
Non-mandatory reference rating:
a) 350 ~ 400ppm-usual outdoor air level.
b) 400 ~ 1,000ppm-typical value in well-ventilated living space.
c) 1,000 to 2,000 ppm-an air level that is inadequate, sleepy, and sufficient to cause complaints
d) 2,000 ~ 5,000ppm-stagnant, old, sultry air level. It is headache and drowsiness, accompanied by
inattention, decreased concentration, rapid heartbeat and slight nausea.
e)> 5,000 ppm-Exposure to it may cause severe hypoxia, resulting in permanent brain damage, coma and even death.